Chair Stories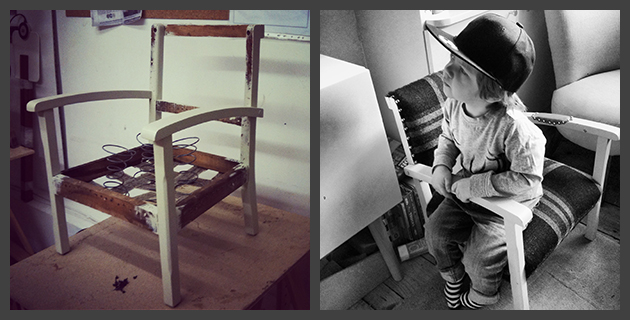 Kasper's Chair... My first chair and the inspiration for YellowDot.
Back in 2012 when my eldest son Kasper was one, I found an old children's chair frame in a boot sale. It was looking pretty sorry for itself but it was destined to be awesome!!
Kasper's chair was not just a chair, it was a launch pad to take Kasper and his gang* on many an adventure, it was a big 'step-up' to those tricky out of reach toys, it was the support for the top of the Wakety Racers tube ramp and at the end of the day it was a cosy spot for a snuggle with the gang and a book.
*The Gang = Teddy, Big Monkey, Little Monkey, Woofie, Foxie & Bunny.